What is a design icon, exactly? True icons are distinctive in their excellence, like a Rolex Submariner. They're immediately recognizable, like a Hermès Kelly bag. They're emblematic of a style or philosophy, like the Saarinen Tulip table. They're beautiful, useful, timeless, and honored worldwide.
As the premier brand of luxury outdoor furniture for the past 75 years, Brown Jordan has created more than a few icons of its own: stand-out collections that have ascended to become part of the American design lexicon—and have inspired the next generation of equally iconic, award-winning designs. Here, we're spotlighting five of the most influential Brown Jordan designs, with insight from Chief Brand Curator, Stephen Elton.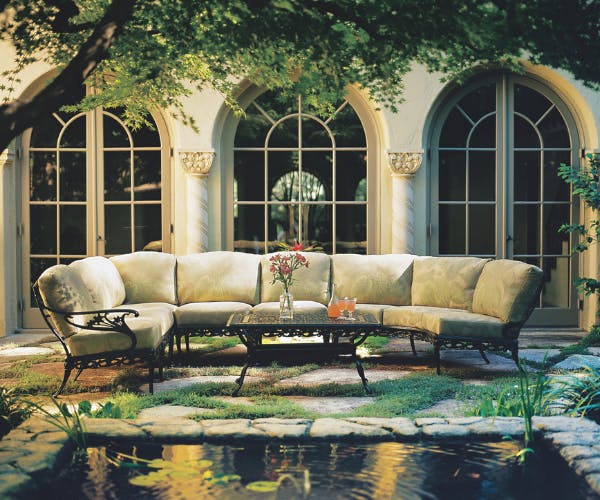 DAY LILY
As graceful as the flower it's named for, the Day Lily collection has an innovative history to match its delicate style: Introduced in 1948 the collection was one of the first casual furniture lines to be designed specifically for cast aluminum. As such, Day Lily's place in design history has earned recognition far and wide, including by the Smithsonian Institution. "In 1986 the curator of the Smithsonian contacted Brown Jordan because the museum wanted to include the Day Lily collection in its archives, a tremendous honor," says Elton. To celebrate this momentous occasion. Brown Jordan reintroduced the collection as Day Lily Smithsonian, adding more pieces and a slightly larger size. "In the 1940s, Day Lily was about 25 percent smaller," says Elton. Today, in addition to its place in the Smithsonian's archives, Day Lily is also part of the permanent collection of garden furniture at the Smithsonian's Office of Horticulture, where you'll also find matching wickets edging the extensive gardens, all custom-designed by Brown Jordan.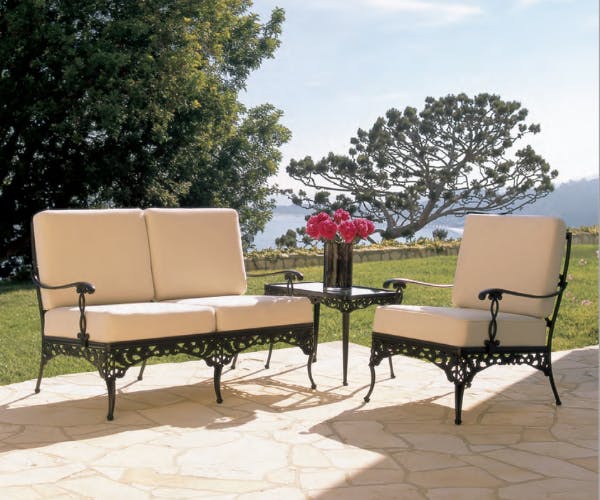 ELEGANCE
With its stately silhouettes, open lattice work, and decorative acanthus-leaf detailing, the Elegance collection—introduced in 1958—shows off its 18th century French influence. "Before Elegance, furniture with this kind of traditional, neoclassic feel had only been produced in cast iron," says Elton. "Brown Jordan figured out how to bring all that fretwork and serpentine scrolling to cast aluminum—so just as detailed but much lower maintenance and it weathers better." One of Brown Jordan's longest-lived collections, Elegance has graced fine exteriors around the world—including the home of President and First Lady George and Barbara Bush.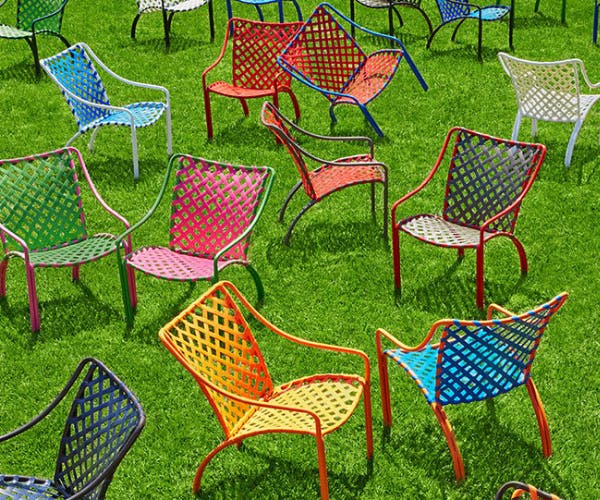 Tamiami
On the opposite end of the style spectrum from Day Lily and Elegance—but no less iconic—Tamiani burst onto the scene in 1961, immediately appealing to mid-century designers and fashion-forward homeowners. A Robert Brown concept, Tamiani pairs a streamlined aluminum frame with vinyl straps, in a first-in-industry diamond pattern. "Until that point, we had only done vinyl lace in a windowpane pattern, and one of our Florida salespeople at the time told us that his clients were looking for something similar, but with more design interest," says Elton. "Robert Brown got the idea for the diamond pattern at an exhibition of Native American furniture he saw in Pasadena—and then named it 'Tamiami' for an area in Miami, in honor of that Florida rep. Tamiami is still easily one of the most recognizable designs Brown Jordan has ever had—and probably in the top 20 most iconic pieces of all outdoor furniture, ever."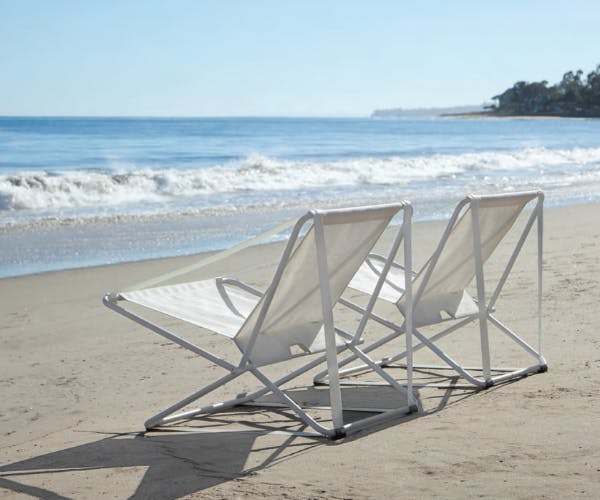 Cricket
Industrial designer Henry P. Glass created the Cricket chair for Brown Jordan in 1979, as a convenient crossover of style and portability. Made with durable mesh fabric or leather—and available as "Cricket Brass" with a lustrous brass frame—the folding lounge chairs let customers take Brown Jordan comfort and style on the go. "In the 1970s, when these came out, it was all Adirondack chairs and picnic tables, and the Cricket chair was sleek and fun and cool," says Elton. "It was stylish in a way that folding chairs really never were—even today, portable chairs are more about the fact that they fold flat than about any appealing design aesthetic. But Cricket was really elevated. I have one in brass and leather in my office right now, and it's just beautiful."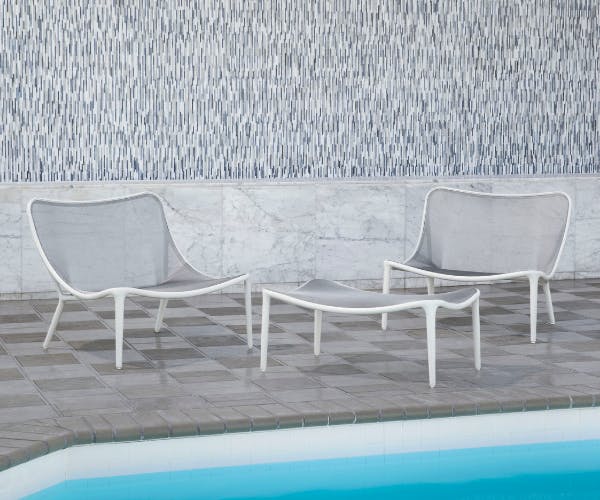 Cloud Nine
A highlight of designer Richard Frinier's illustrious career—he was the recipient of the International Casual Furniture Association's Lifetime Achievement award in 2009, in addition to numerous others—Cloud Nine uses extruded and cast aluminum and parabolic mesh to create a lighter-than-air effect. "Cloud Nine pushed the use of outdoor fabrics in ways they'd never been pushed before," says Elton. "It challenged us from a manufacturing standpoint and really allowed us to separate Brown Jordan from the pack, showing us as innovators both in terms of design and material." Cloud Nine quickly became a darling of the design world, winning the IDEA award from the Industrial Designers Society of America (IDSA) the year it was launched, and becoming a staple of contemporary outdoor living spaces.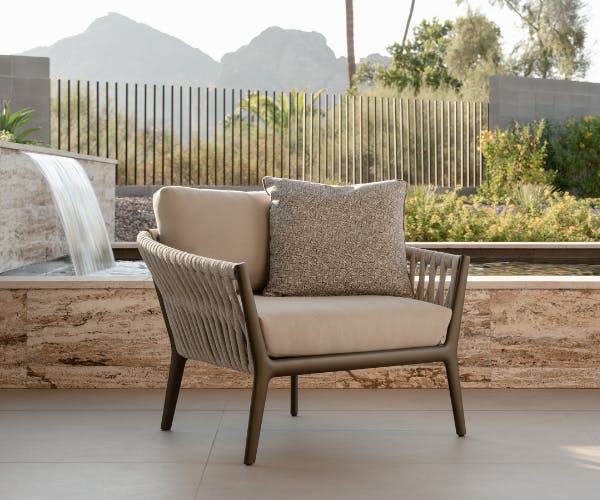 Oscar, 20TWENTY, H and Beyond
From the bold materiality of H—Brown Jordan's newest collection, designed by Toan Nguyen—to the elegant indoor-outdoor aesthetics of Ann Marie Vering's Oscar collection, to the cool, contemporary lines of 20TWENTY by Richard Frinier, Brown Jordan's rich past has set the groundwork for our future designs. Always pushing the envelope of innovation, quality, and design means that the next "iconic" design is just one industry-best concept away.
Stephen Elton
Chief Brand Curator